Soulful, mythical, vivacious, and chaotic – all describe Madurai in a true sense. Also referred to as The Lotus City, Madurai is one of the oldest inhabited cities that greet people with bright colors and the sound of the temple bells the moment you enter the city, taking your aural and visual senses to another world.
It is a unique place that offers a sneak peek into the rich history and culture of South India, with a thriving art scene that includes dance, music, and literature. All this becomes more interesting with our Madurai Darshan Packages.
Surrounded by an abundance of lush greenery from all sides, Madurai has a kind of charm and aura that makes you forget everything about your daily life for some time, by taking you on a journey to discover the divine. The experience you get after visiting its many religious sites will surely leave you in awe, inspiring you to spend more and more time here in the city.
Don't worry as the tourist places to visit in Madurai are not confined to only temples. There are several other things to see and do as well. We have curated a list of compelling places which you can keep handy for the next time you plan a getaway to Madurai with our Madurai Darshan Packages. These are as follows: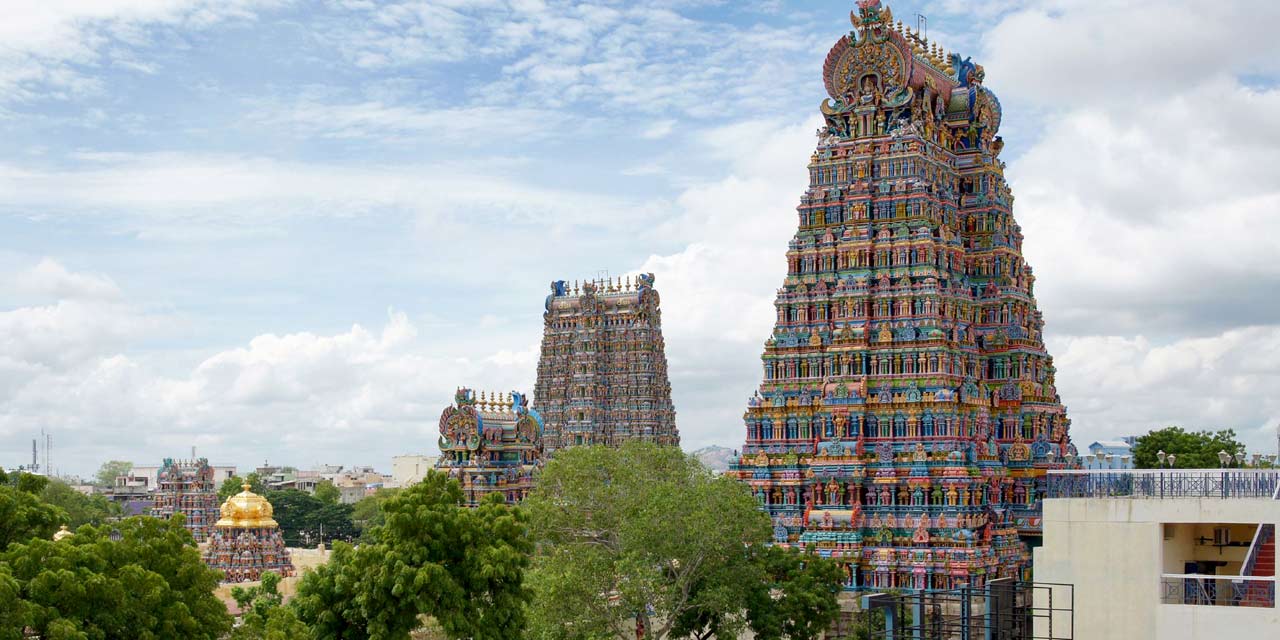 Amongst the famous temples in South India, Sri Meenakshi Ammam Temple is one such place that garners people's attention due to its religious significance it boasts. This holy site boasts astonishing architecture that will surely take your breath away as soon as you step into its exquisite complex.
Dedicated to Goddess Parvathi (Meenakshi) and Lord Shiva, Sri Meenakshi Amman Temple features 14 majestic towers with a façade designed with great art pieces. Another highlight of this pilgrimage is the Hall of Thousand Pillars which is equally renowned for its architectural excellence. Here you can also head to the museum located within the temple to know more about the history and culture of the region.
The best time to visit the Meenakshi Ammam Temple would be from October to March. At this time, the weather remains pleasant, making it easy for you to explore its surroundings at your convenience. You can also be a part of the Thirukalyanam Festival organized with great zest and endeavor here for a span of 10 days to make the most of your time.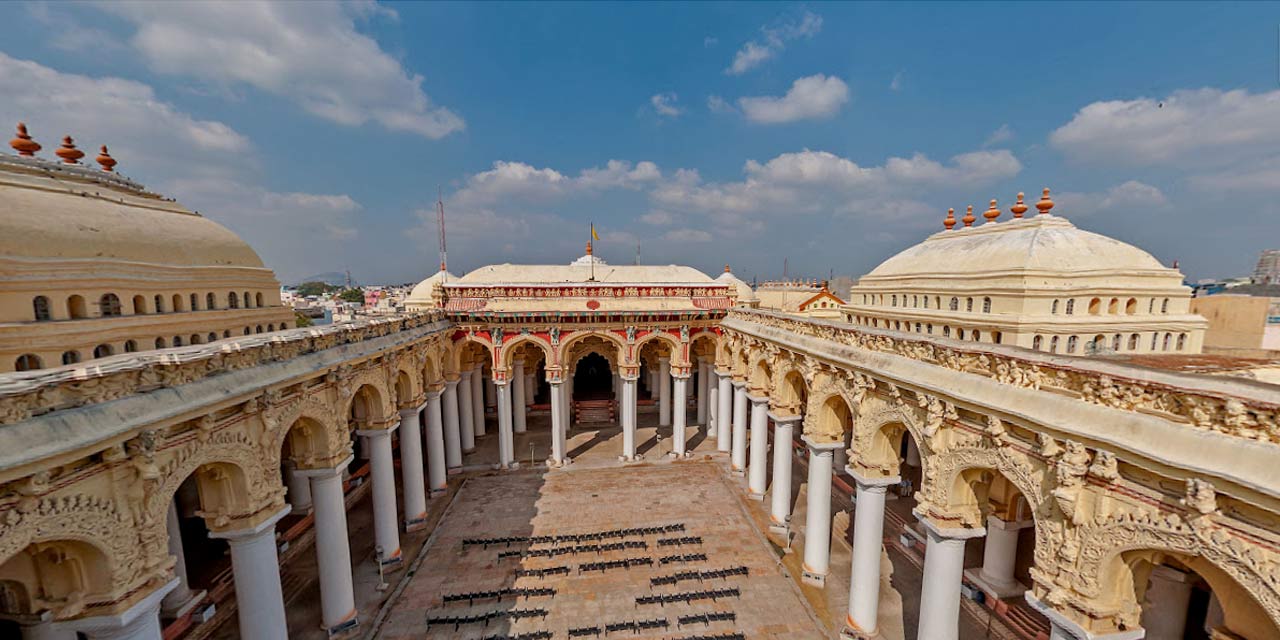 An age-old building located in the bustling city of Madurai, Thirumalai Nayakar Mahal is a historic place built by King Thirumalai Nayakar in the 17th century and stands as a remarkable testament to the architectural brilliance of the era. It is a fusion of Dravidian and Islamic architectural styles, reflecting the cultural and artistic influences of the time. The palace is known for its grandeur, ornate pillars, beautiful arches, and intricate stucco work, which is believed to have been done by Italian craftsmen.
As you step into its premise, you will notice that the Thirumalai Nayakar Mahal is divided into 2 parts – Swarga Vilasam and Ranga Vilasam. Take a tour of both areas to see various important sections like the royal residence, ponds, gardens, worker's quarters, the throne room, religious places, armory, apartments, and royal bandstand. Not only is it a great reminder of the glorious past of the region but also stands proudly as a testament to the skill and creativity of the artisans and architects of the era.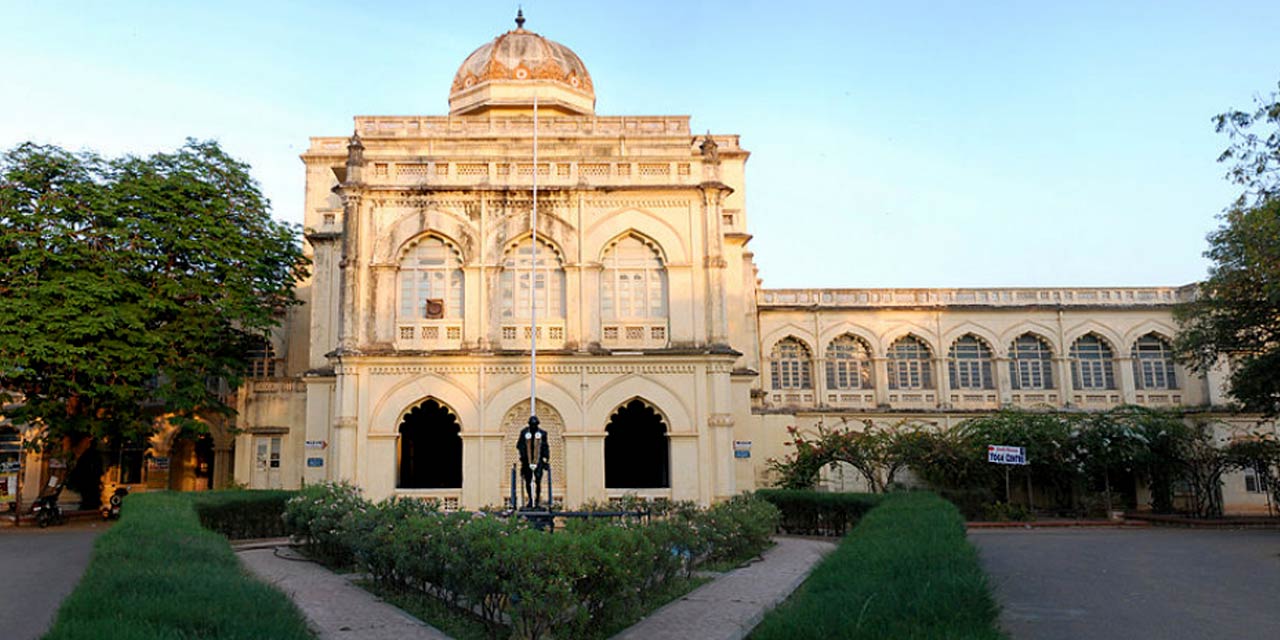 The next destination to explore in Madurai with our Madurai Darshan Packages is the Gandhi Memorial Museum. Established in the year 1959 in the honor of Mahatma Gandhi – the father of the nation, the Gandhi Memorial Museum is one of the few Gandhi museums in India that takes you back into the era of pre-independence struggle we faced through an impressive collection of manuscripts, photos, historical stamps, letters, and other significant items from the time. It also boasts the blood-stained cloth which he wore during his days of assassination.
Other exciting things kept at the Gandhi Memorial Museum are 124 different photographs that depict the different phases of Gandhi's life. From his childhood days to the day when he was taken to the crematorium for the final rituals, these photographs take you on a journey that lets you know every single detail about his livelihood. What else? There, you can also see a Khadi and Village Industries Section along with a library of brilliantly knowledgeable books.
4. Meghamalai
Ideal to enjoy an escapade away from a tiresome daily routine, Meghamalai or High Wavy Mountains is a serene and picturesque location for nature buffs looking to be in the lap of mother nature on their Madurai tour.
Surrounded by evergreen forests of cardamom, cinnamon, pepper, and fragrant tea plantations with breathtaking waterfalls and wildflower patches in the backdrop, Meghamalai invites couples to relax, unwind, and spend some quality time in tranquility.
Take a walk around the plantations to learn about the cultivation process in detail. Or enjoy over 100 species of birds flying free from here to there in the sky. Or try your hand at a trekking trail that goes through the rugged terrains to see a diverse range of fauna on your way. Or explore nearby places like Meghamalai Wildlife Sanctuary, Meghamalai Waterfalls, or Suruli Falls to keep yourself occupied all the time. In short, you won't get bored at this place as there are many things to do and see all day long.
5. Vaigai Dam
Lastly, if you're in search of a place where you can find solace and solitude under one roof, then Vaigai Dam can be the right location for you. Perched at a distance of nearly 70 km away from Madurai, Vaigai Dam welcomes locals as well as visitors to enjoy a perfect weekend with their loved ones in utmost serenity. It is a great picnic spot for families with children and can also be explored by all those who are looking to disconnect from the temporal world for some time.
Admire the magnificent beauty of this man-made structure while enjoying the lush green surroundings encompassing the Vaigai Dam. Visit the Little Brindavan Garden lying right next to the dam to treat your eyes to the exotic range of plants and flowers. The garden also boasts a dedicated play area and a musical fountain that functions every weekend.
July to December is considered an ideal time to head toward the Vaigai Dam. Why? Because this is a monsoon season and due to rain, the level of the waters reaches its peak, which adds to its overall beauty. Make sure to bring enough eatables with you as there are no eateries around the place. Also, it is important to keep an eye on your children to maintain their safety.
---
The list of sightseeing places in Madurai doesn't end here. If time permits, you can plan to include a few more points of interest to your itinerary list to enjoy your visit to the fullest. Some of the tourist attractions that deserve your attention are Alagar Koil, Samanar Hills, Koodal Azhagar Temple, Mariamman Teppakulam, Tirupparankundram Murugan Temple, St Mary's Cathedral, ISKCON Madurai, and Kazimar Big Mosque.
Book an all-inclusive Madurai tour package with us to have a great time in Madurai. We at Madurai Tourism, a division of Holidays DNA, present several kinds of travel packages that can be customized suiting your varied holiday needs. Depending on your budget and trip duration, our travel experts can also help you include the tourist places of your choice in your itinerary list. Please fill out the Contact Us form to know more about our services.
How to Reach Madurai?
By Air: Approximately 10 km away from the city center is the Madurai Airport which receives flights from the metro cities of India like Bangalore, Coimbatore, Chennai, and Trichy. For overseas travelers, the Chennai International Airport is the most feasible option. From there, you can book a taxi from the list of top car rental companies in Madurai to further commute to your desired location.
By Train: Madurai Railway Station is the only station within the city that has direct trains from the neighboring areas in South India to Madurai on an everyday basis. It is a convenient way of traveling for people of all age groups and is also a pocket-friendly option. However, don't forget to get the seat reservation done in advance if you're traveling during the summer/holiday season.
By Road: For your ease, the Tamil Nadu Government runs various private and state-owned buses to and from Madurai at reasonable prices. You can also travel in a luxury coach with AC and non-AC facilities as per your need. Choose to self-drive your own vehicle to enjoy the road trip in your comfort. The choice is yours!